DEGREE
Masters in Management
PROGRAM LENGTH
17 to 21 months
CAMPUS
Vallendar, Germany
WHU MiM Overview
WHU – Otto Beisheim School of Management offers the best master in management worldwide with an excellent first academic degree in a business-related field of study. This program is full 17 to 21 months program and it offers expertise in the field of business administration with practical and international exposure. master in management at WHU prepares students for wide range career and for multiple industries and functional fields.

Exchange partners
200

In Praxi Association
3900 Members

Placement
95%

International experience
Capstone model
| | | |
| --- | --- | --- |
| | Financial Times'18 | 16 |
| | The Economist | 3 |
| | QS WORLD RANKINGS '18 | 15 |
Program and Curriculum
Whu-Otto Beisheim School of Management masters in management is ranked 3rd in "The Economist" and 1st in Germany. In MiM, Whu offers full-time English language program with internships and international experience. it also offers double degree option for those who are in 120 credit track. it also offers "Pool module" which compliment core electives. For those who have 210 ECTS "Bachelor's degree", are offered with "Capstone model" of the business metropolises in America, Asia or Europe included. It is one of the best cross-cultural experience for the student with companies visit.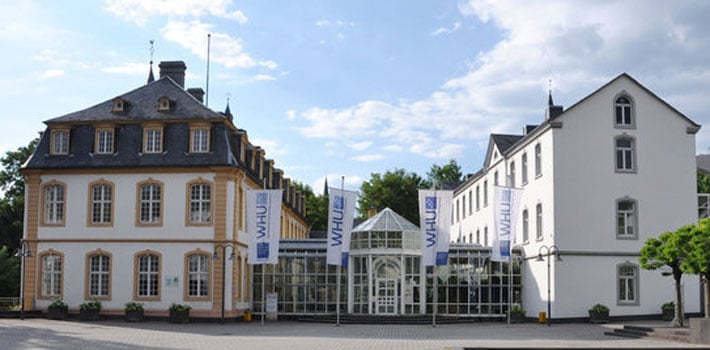 Accounting
Marketing & Sales
Economics
Strategy
Innovation
Supply chain management
Accounting and Finance
Data Analytics
Economics
Marketing and Sales
Strategy and Leadership
Supply chain management
Teaching Engagement – Speakers from various companies provide practical insights to the students.
Company Presentations and Workshops – Supporting companies interact with students once a year.
Master Your Career – Recruitng fair at the end of January.
Career Day – Recruiting fair in September.
Founders Career Day – Recruiting fair in November.
Campus for Marketing
Campus for Sales
Campus for Supply Chain Management
Campus for Controlling
Campus for Finance
Campus for Strategy and Leadership
Business Meets Tech – WHU's Tech Initiative
Campus for Finance
WHU Campus for Supply Chain Management
Confluentes e.V.
Enactus WHU Vallendar e.V.
WHU First Responder
forumWHU
WHU Generations Cup
Music Club (Hochschulmusikverein)
Sports Club WHU (Hochschulsportverein 1985 e.V.)
IdeaLab! – WHU Founders' Conference
In Vino Veritas – WHU Vallendar
Social democratic ecological Group WHU
University Liberals' Association (Liberale Hochschulgruppe) WHU
Ring of Student Christian Democrats (RCDS)
Saidia Consulting
WHU SensAbility
SmartUp! – The WHU Entrepreneur Network
Startup Academy von Jugend gründet & WHU
TEDxWHU
The Entrepreneurial Group
WHU Students Theater Group
Tradity meets WHU
Vallendar Integration Program (VIP)
WHU Debating Union
WHU Entrepreneurship Roundtable
WHU Euromasters
WHU Finance Society e.V.
WHU Golf
WHU Inside Business
WHU Students Help (WHU Studenten helfen e.V.)
Employment
Overall MiM WHU Placements are pretty good, and hence WHU Masters in Management is an attractive proposition for most people. WHU is having a good record of placement in the consulting sector, banking and finance and industry and services. WHU alumni association is considered as one the best network among the degree holders of WHU, exclusive career services, alumni career day and post placement program.

Top 3 Sectors
Consulting
Investment Banking
Industry & Services
Companies Recruiting from WHU
Consulting
BCG
McKinsey
Accenture
PricewaterhouseCoopers
Finance
Goldman Sachs
Volkswagen Financial Services
Allianz Group
Technology
Henkel
Rocket Internet
Optilyz
Want to be a part of the 2019 success stories?
Want to know your chances at WHU?
Every successful entrepreneur or executive has a story to tell about excelling in business – and the WHU alumni featured on this page, are no exception. From pharmaceuticals and petrochemicals to broadband and TV, these leaders have all made their mark. But who are they, what have they learnt and how did they conquer the business world? Here are their stories.
Some of the famous alumni of WHU are:
1) "EvoPark" startup in TV show: " Die Hohle der Lowen" (Dragon's Den)
WHU alumni Sven Lackinger, Marik Hermann, Maximilian Messing and Tobias Weiper presented their start-up in the current season of the TV show "Die Höhle der Löwen" ("Dragons' Den").  They pitched their idea and offered 15% share of the company for 1.5 million euros.
2) WHU alumni "Dominik Stein and Michael heyne"  founded "Vertzkebap" in 2011 and now it is a biggest hit and they are planning to expand in entire U.S east coast.

Class Size

GMAT

Average Age

Nationalities

Female
Useful Information
WHU – Otto Beisheim School of Management is an internationally recognized and privately financed business school in Germany. This school has proved its mettle in creating a world class business leaders and management professionals. It stands to be a podium of future oriented research and teaching in business administration. The range of courses offered are extensive including a Bachelor Program in International Business Administration, two Master of Science Programs in Management and Finance, a Full-Time MBA Program, Part-Time MBA Program and the Kellogg-WHU Executive MBA Program.
In addition, WHU's customized management programs are well tailored to the requirements of a particular enterprise. Its international network includes more than 195 partner universities with which there are exchanges of lecturers and students, as well as cooperation in research worldwide. WHU faculty guarantees the excellent standard of courses and a high degree of international experience for its pupil.
Eligibility
Bachelor degree in a business-related field of study
GMAT (min. 600), GRE (min. 155/155), or TM-BASE (min. 102) • TOEFL (min. 100 IBT) or IELTS (min. 7.0)
Practical experience (min. 14 weeks of internship/s or equivalent)
International experience (study or internship abroad)
Successful completion of WHU's admissions test
 €21,600
for 90ECTS
  €26,800 for 120 ECTS
AACSB, EQUIS, FIBAA System Accreditation
   Applicants with Visa requirement         April 15, 2019
   Applicants with Visa requirement           May 13, 2019
Next Deadline Approaching in
Check out what our Past WHU clients say about our Services
MiM Application Information
Application Documents
Online application form
Bachelor's degree or its equivalent from an accredited or equivalently approved college, university, or technical school in business administration, economics, or in a business-related field of study with at least 180 ECTS credits
at least 14 weeks of relevant practical experience (20 weeks are recommended)
TOEFL score of at least 100 internet based (WHU Code: 0682),
OR IELTS of at least 7.0, Cambridge Certificate of Proficiency in English (CPE) of at least Grade C
OR Cambridge Certificate of Advance in English (CAE) of Grade A

* 

Submission deadline: June 15, 2019
GMAT score of at least 600 (WHU Code: FBR-FH-93)
OR GRE of at least 155 Verbal and 155 Quantitative

OR TM-BASE of at least 102

**

Submission deadline: June 15, 2019
Application Essay
The WHU MiM application comprises of 3 question answers and some long essays. WHU takes its essays very seriously and uses it as a medium to understand the strengths and weaknesses of prospective students. So make sure your essays are top notch.
WHU MiM Short Essays
Question 1 (503 words)
Description of any professional experience.
Question 2 (503 words)
Description of any volunteer activity/ Social commitment.
Question 3 (503 words)
Description of organizational activity/ Teamwork Experience.
WHU MiM Long Questions
The WHU Application consists of several long questions which in many ways supplement your essay questions and cover different areas of your profile. Don't make the mistake of underestimating these short questions and make sure they add to the profile you have created in your long essays and don't just reiterate what you have already mentioned.
Experience in any leadership responsibility (698 words)
Hobbies (698 words)
Creativity (813 words)
Describe your decision on a subject of study (1251 words)
Why did you decide WHU specifically and why we should consider you? (1251 words)
Which abilities and qualities you want to develop during MiM program? (1251 words)
What professional activities you want to pursue during your studies and why? (1251 words)
After profile evaluation, WHU invites applicants considered qualified admission test.
A presentation on a self-chosen, Management-related topic that will be discussed afterward.
One-on-one interviews.
Group work