WU (Vienna University of Economics and Business)
DEGREE
Masters in International Management
WU Vienna MiM Overview
The WU Vienna MiM program is amongst the most sought after MiM programs in the world. What sets this program apart is the tie-up with CEMS. This means that you essentially get two degrees combined: WU's MSc and the CEMS MIM. It is a two-year, full-time program taught entirely in English. The program has a diverse curriculum which involves a semester abroad, internship experience and business projects among other things. It is also considered one of the best value for money schools of all the business administration schools.

Exchange partners
240

International Students
30%

Class Size
170

100,000 sq. meters of Campus
| | | |
| --- | --- | --- |
| | Financial Times'18 | - |
| | The Economist | - |
| | QS WORLD RANKINGS  | 16 |
Program and Curriculum
WU Vienna is one of the largest universities in Europe. With 23,000 students from 110 countries, WU provides an extremely diverse study environment. It boasts of accreditation via EQUIS, AACSB, and AMBA making it a proud bearer of the rare and sought-after "triple accreditation". Therefore the WU belongs to an exclusive circle of schools. The WU has a network of about 240 partner universities. Students enjoy experiences abroad within the scope of exchange programs and summer universities in central, eastern and southern Europe as well as in Asia and the USA. All these qualities make WU one of the most sought-after schools in the world.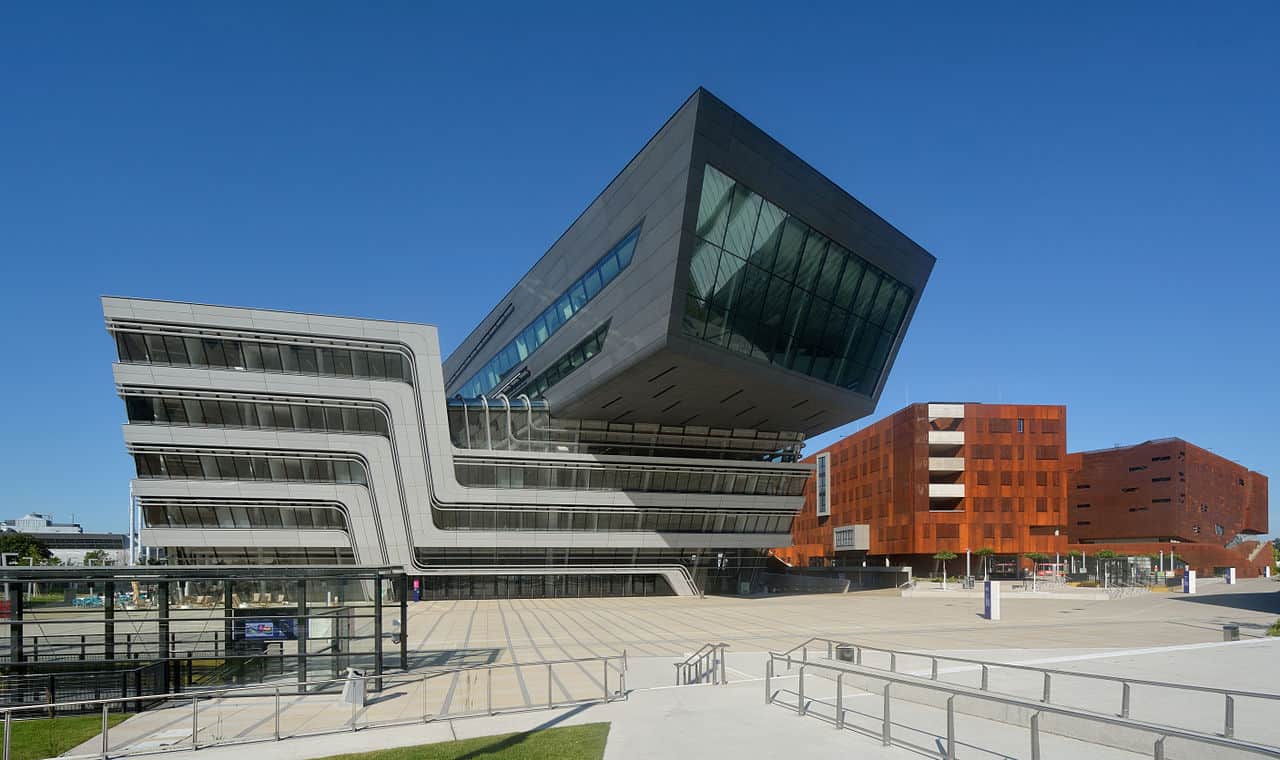 Functional Courses with International Perspective
International Industries
International Markets
International Environments
Managing Globalization
Global Strategic Management
Global Marketing Management
Global Financial Management
Global Management Practice
Being a part of CEMS alliance, students at WU Vienna get to spend a semester in one of the CEMS partner schools. Students can choose from around 30 schools and spend a semester in a different country.
Employment
Overall MiM WU Vienna placements are pretty good, and hence it is an attractive proposition for most people.
AVERAGE SALARY (Weighted)

Top 3 Sectors
Consulting
Finance
Corporates
| | |
| --- | --- |
| Consulting | 42% |
| Finance | 37% |
| Investment banking | 17% |
| Investment management | 13% |
| Private Equity & Venture Capital | 5% |
| Diversified Financial Services | 3% |
| Corporates | 24% |
| Technology, Media & Telecoms | 11% |
| Consumer & Retail | 3% |
| Energy | 4% |
Companies recruiting from WU Vienna
Consulting Sector
AT Kearney
Bain & Company
Deloitte
McKinsey
IT/Technology
Facebook
Google
Microsoft
Nokia
Consumer Products
L'Oréal
Procter & Gamble
Reckitt Benckiser
Whirlpool
Want to know your chances at WU Vienna?
WU Alumni Club is a one-stop place to connect with over 4,600 alumni of the school. This club holds about 70 events each year including lectures and seminars, guided art tours and social events.
Alumni Club has an international network of over 40 cities worldwide.nteresting panel discussions and lectures, workshops and seminars, guided art tours, and social events
interesting panel discussions and lectures, workshops and seminars, guided art tours, and social events
Some Famous Alumni
Peter Brabeck-Letmathe (Chairman and CEO of Nestlé AG)
Hikmet Ersek (CEO of Western Union)
Dietrich Mateschitz (Founder and CEO of Red Bull)
Masters in International Management : Class Profile

Class Size

GMAT Range

Average Age

Female

Nationalities

 Average Work Exp
Useful Information
WU obtained an outstanding 13th place with its Master's Program in International Management (CEMS) in the 2018 Masters in Management ranking, issued by the renowned business daily Financial Times. WU has for the third time secured a place among the top institutions offering programs in management since it joined the global Masters in Management ranking.
Eligibility
Relevant Bachelor's program or other equivalent degree programs (worth at least 180 ECTS credits) at WU Vienna.
If you apply with an equivalent degree program, examinations have to be documented in the following subject:60 ECTS credits have to be earned by passing exams in the field of business administration.
Proof of sufficient proficiency in English – C1/C1 according to the Common European Framework of Reference: (IELTS,TOEFL, Cambridge English: CAE, CPE and BEC are valid.)
Proof of very good oral skills (B2 according to the Common European Framework of Reference) and good written skills (B1 according to the Common European Framework of Reference) in one of the CEMS languages.
Proof of elementary-level (or higher) skills in any third language.
Valid GMAT score.
 Rounds                     Deadline Dates
   Round 1                  1 September 2018
   Round 2                  8 October 2018
   Round 3                   8 January 2019
   Round 4                    8 March 2019
Next Deadline Approaching in
Application Documents
Online application form
Motivation Letter
GMAT/GRE Score
One page CV
2 Letter of recommendations: One academic & one professional
A copy of college transcript
IELTS, TOEFL, Academic score (for some international students)
Application Essays
The WU Vienna MiM application consists of a motivation letter. The motivation letter should be no longer than 600 words. It should focus on the following questions:
Why do you want to take the Master's in International Management/CEMS at WU Vienna?
Which areas of study, which courses and topics interest you most, and why?