DEGREE
MSc. in Management (Grande Ecole)
CAMPUS
Paris, France
Cergy, France
One North, Singapore
Rabat, Morocco
ESSEC MiM Overview
The Master in Management program at Essec Business School is ranked #4 by the Financial Times in 2017 and combines the best of a prestigious French "Grande Ecole" program with a unique exposure to international experiences with two world class campuses in both Paris and Singapore.
The program duration is of 15 month bi-campus program providing dual gateway to European and Asian financial markets.

Exchange partners
182

Average Age
23

Nationalities
98

Female
49%
| | | |
| --- | --- | --- |
| | Financial Times'14 | 4 |
| | The Economist | 4 |
| | QS WORLD RANKINGS '18 | 4 |
Program and Curriculum
Being among the top five schools of management, ESSEC is a wise choice for an MiM. Courses are tailor-made for students' convenience. Campuses in three different countries means exposure to a world class lifestyle. More than 90 partnering networks ensure placements, skyrocketing job growth and fullfilled degree.
Along with a great curriculum, ESSEC has a great corporate network as well. The placements of the MiM students speak for themselves with a lot of students being placed in well-paid jobs in France, UK, Germany & several other countries.
ESSEC has by far the strongest apprentisage or apprenticeship program placements, where students work for 3 days at a company and study for 2 days at the school. In return, the company pays the entire tuition fees and also gives a healthy stipend to the student. This is an extremely economical way to finance your studies.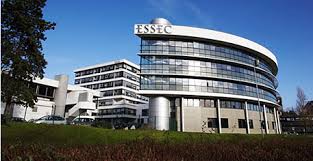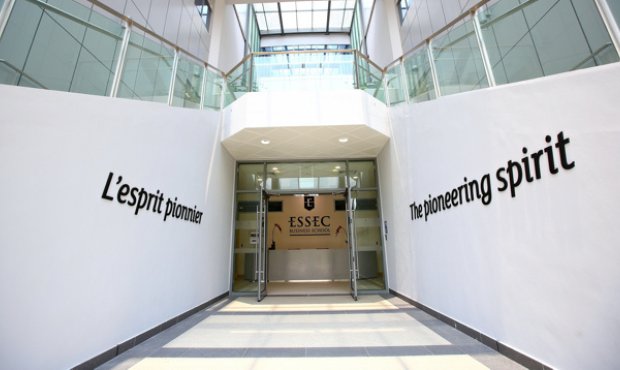 200+ Elective Courses from 8 teaching departments
Accounting and Management Control
Public and Private Policy
Economics
Finance
Management
Marketing
Operations Management
Information Systems, Decision Sciences and Statistics
Finanacial Accounting and Reporting
Organisational Theory and Behaviour
Management Control
Marketing Management
Business Economics
Strategy and Management
Principles of Finance
Information Systems/Technology for Managers
Law or Operations
Each year, a great number of firms and individuals take part in ESSEC's development by making financial contributions in the form of corporate patronage.
This fiscally advantageous contribution enables companies to be involved in ESSEC's development strategy, particularly on an international level.
Many Industry conferences are conducted. Some examples being –
1.  A Security component of the business : Insuring Cyber Risk.
2. Threat Awareness : From Myth to reality
3. Who are you ? Biometrics, Opportunities and risks.
ESSEC is home to many clubs like –
1. ESSEC Solution Enterprises.
2. ESSEC Flying Club.
3. ESSEC Divercity.
4. Extreme ESSEC.
5. Finance.
6. Arts.
7.ESSEC Initiatives.
Employment
Overall ESSEC Placements are pretty good, and hence ESSEC MSc. in Management is an attractive proposition for most people. We can write about alumni and more information which makes placement attractive in a school

Top Sectors
1. Financial institutions, banking, insurance
2. Consulting and auditing
3. Technology, telecommunication, medias
| | |
| --- | --- |
| Finance, Banking, Insurance | 29% |
| Consulting | 15% |
| Technology, Telecommunications and media | 13% |
| Others | 10% |
| | |
Companies recruiting from ESSEC MiM
Consulting Sector
BCG
McKinsey
Accenture
Advisory Board Company # Arthur D Little *
Finance
Barin
Citi
Crawford & Co.
Credit Suisse
Technology
Google
Thomas Reuters
HP Inc.
Sony
Want to be a part of 2019 success stories?
ESSEC Alumni Info
ESSEC has a network of 47,000 graduates. The graduates have been living and working in more than 71 countries.
The Alumni community is another key element of the ESSEC eco-system – and a formidable catalyst for the promotion and collective development of the School.
 Some Famous Alumni-
1.    Pierre Nanterme, CEO of Accenture.
2.    Fleur Pallerin, France Culture Minister, 2014-16.
3.  Charles Konan Banny, Former PM of Ivory Coast.
Essec Masters in Management: Class Profile

Average Age

Nationalities

Female
Useful Information:
The MiM programme at ESSEC Business school is ranked at number 5 globally by the Financial Times. An MiM graduate from this school can expect an average salary of 65,000 Euros and almost 98% students gets placed within 6 months of their graduation.
Eligibility
The minimum eligibility for MSc. in Management at ESSEC is a 3-4 years bachelor's degree in any field, from a top university/school located in or outside France.
The applicant is preferred to be under 32 years of age
The applicant is should not have an extensive work experience
 Rounds                     Deadline Dates
   Round 1                  9th  October 2018
   Round 2                  4th  January 2019
   Round 3                   25th February 2019
Next Deadline Approaching in
Have queries regarding the program?
Join our Facebook Group!
Application Documents
Online application form.
Application Essays:  1 SOP & 2 long essays.
GMAT/GRE/TAGE MAGE/CAT Score.
One page CV.
2 Letter of recommendations: One academic & one professional.
A copy of college transcript.
IELTS, TOEFL, TOEIC score (for some international students).
Application fee of 95 euros.
All the application material must be mailed to the ESSEC office in France.
Note: Though work experience is not mandatory, 3-6 months of work experience is preferred.
Application Essays
ESSEC requires one SOP and 2 essays.
The Statement of Purpose is a Free format letter which is employed by ESSEC to give you a portal to
i. Introduce yourself in a brief paragraph
ii. Talk about Why ESSEC, Why the MIM program & How it can help you to achieve your career goals
Essay 1: What matters most to you, and why? Tell us the values and experiences that have shaped the person you are (maximum 400 words)
Essay 2: Provide to the Admission Committee any relevant additional information (not already detailed in the rest of your application)
(maximum 300 words)