CAMPUS
Paris, London, Berlin, Madrid, Warsaw & Turin
ESCP Europe MiM Overview
The ESCP EUROPE MiM Review page is crafted for the leaders of tomorrow. It's currently ranked 6th in the world and has maintained its ranking in top 10 business schools in the world. It provides an opportunity to study in up to 4 countries. The integrated programme curriculum taught across six ESCP Europe campuses, offers the possibility to obtain up to four national degrees in ESCP Europe campus, and the option of dual degrees with 70 academic partners across the world. If you want the international exposure, professional experience and a curriculum that is recognized as one of the best in the world, then ESCP Europe's Master in Management is one stop for you.
ESCP Europe MiM Highlights

World's 1st Business School

Obtain 4 National Degrees

70 partners worldwide

Accrediation:
AACSB,EQUIS,AMBA
| | | |
| --- | --- | --- |
| | Financial Times '18 | 5 |
| | QS World Rankings '18 | – |
| | The Economist | – |
Program and Curriculum
Developed in partnership with top global recruiters, and educational experts, program and curriculum designed at ESCP is such that it gives students hands on practice of the corporate world. There are continous Industry related workshops and conferences going on. There are many clubs like Junior Enterprise and many financial clubs where students explore on their own and enhance their skill set for corporate world.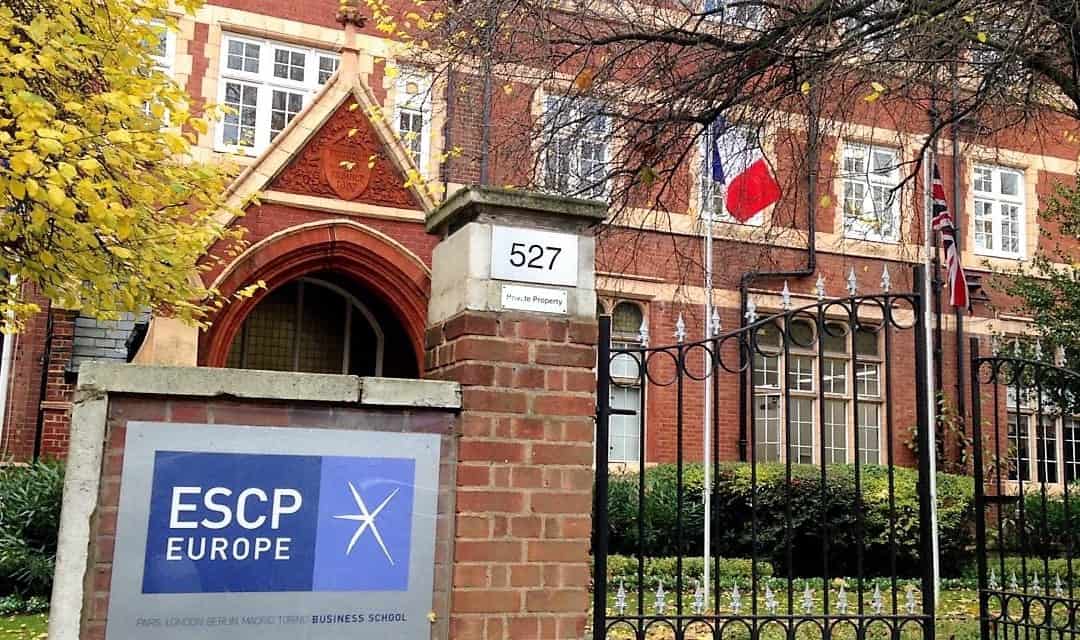 Breaking the Code of True Leadership.
Corporate Social Responsibility & Sustainable Strategies.
Design Thinking in Management and Entrepreneurship.
Emerging Markets Finance
Foundations of Indian Business Culture
Innovation and Entrepreneurship
International Business and Human Rights
International Human Resource Management
Investment Banking & Financial Engineering
New Public Management and Sector Performance
Performance Management
Social Media and Viral Marketing
The European Model: The European Integration Process – Unity & Diversity
Berlin campus Finance, Accounting and Management Control (German) NEW International Business 1 (German) International Business 2 (German) International Sales Management (English) NEW Option E Entrepreneurship: Technology and digital economy (English) NEW Sustainability (German)
London campus Business consulting (English) Creativity marketing management (English) Option E Entrepreneurship, intrapreneurship and innovation (English) NEW
Madrid campus Business Project Management 1 (English) Business Project Management 2 (English) Marketing and digital strategy (English) Communication and new media (English) Marketing and digital communication (English) (2 semesters) NEW Option E Entrepreneurship (English)
Paris campus Consulting dynamics and practices (English) Droit et finance (French) Economie (French) Finance – one semester (English) Finance – two semesters (French) Finance d'entreprise (French) Finance de marché (French) Go to market (English) NEW HR Leadership and talent management (English) NEW Option E Entrepreneuriat (French) Information financière et audit (IFA) (French) Innovation (French) International business development (English) Internet of things (English) NEW Management Control (English) NEW Management des industries culturelles et médiatiques (French) Marketing manager (English) Performance management systems (English) Public management (English) Re-think: Alternative models of organisations and management (English) NEW Research in management (English) Stratégie et conseil (French)
Warsaw campus Finance and Accounting (English) NEW Strategic Management (English) NEW
Prerequisites Accounting Corporate Law I Costs and Decisions Economics I Finance Information Tools and Skills Marketing Psychology and Management Quantitative Methods
Advanced Core Courses Corporate Finance Economics II European Business Law and Taxation Financial Reporting IFRS Human Resource Management International Marketing Decisions Management Control Operations Management Organisation and Management Strategy
Many conferences are being conducted. Some examples being-
Industry Sponsored Satellite Symposium
Conference for Sustainable Innovation- Designing Tomorrow.
Agile Project Management.
Transformation with you.
ESCP has a very vibrant student life due to its many clubs like-
Junior Enterprise Club
Sports and Activities Club
Agora
CALL ON'U
10 months of internships, which may be carried out anywere in the world, are an integral part of the Master in Management experience. All students are required to undertake a minimum of 2 work placements taking place in 2 different countries lasting at least 3 months each. Students with previous work experience (completed before joining the programme) can validate up to 16 weeks toward the total required. On average, MIM students gain 64 weeks (16 months) of work experience before graduation
Work Place Objective
Gain valuable intercultural experience within a company in any country worldwide
Put theoretical management methods and techniques into practice in a real-life corporate environment
Reflect on the experience gained, the management methodology used and more globally, the human dimension of the organisations
Clarify your career goals
Employment
Overall ESCP EUROPE MiM Placements are pretty good. With top Global firms coming down to the campus for recruitment. ESCP is the top B-School and companies all over the world look for ESCP graduates.

Top 3 Sectors
Finance/banking
Consultancy
E-commerce
| | |
| --- | --- |
| Consulting | 37% |
| Finance | 19% |
| Marketing | 14% |
| Sales | 9% |
| C-Suit | 7% |
| Audit | 4% |
Companies recruiting from ESCP
Want to be part
of the 2019
success stories?
Want to know your chances at ESCP EUROPE?
ESCP has a strong alumni network of 30,000+ all over the world. Alumni of this organisation are placed all over the world in diverse set of organisations from Finance, Banking, Marketing etc. Many of the placements that take place are due to this alumni network. Alumni conferences also take place where students get to interact with the alumni and get some valuable insight.
 Some Famous Alumni

Jean Pierre Raffarin, Former PM of France.
Michael Barnier, EU Negotiator.
Franck Petitgas, Global Head of Investment Banking in Morgan Stanley
Masters in Management : Class Profile

Class Size

GMAT

Average Age

Nationalities

Female

 Average Work Exp
Partner Universities Worldwide
Useful Information
ESCP is the oldest business school in the world and features among the top 3 Grand Ecoles of the French educational system. It's Masters in Management program is consistenly ranked in top MiM schools for several years. Apart from the MiM ESCP offers a very prestigious Executive MBA program and a range of specialized master programs, including a Masters in European Business.
Eligibility
Candidates must hold a Bachelor degree and have completed at least 3-years studies in universities. Students outside Europe can apply with GAT (Global Admission Test). Candidates can apply to ESCP through SAI. Candidates apply through only one admissions process one time per year. Simultaneously filling ESCP admission application and SAI application is not allowed.
 Rounds                     Deadline Dates
   Round 1                   10 October 2018
   Round 2                   8 January  2019
   Round 3                  20 February 2019
   Round 4                    17 April 2019
Next Deadline Approaching in
Check out what our past clients have to say about our services
Application Documents of SAI
Passport or ID
Transcripts of previous Insititute
Resume
2 Letter of Recommendations
GMAT/GRE/CAT OR TAGEMAGE
English Test score
Proof of Payment
Application Essays
The ESCP EUROPE application comprises of 3 long essays and some short answer questions. ESCP takes its essays very seriously and uses it as a medium to understand the strengths and weaknesses of prospective students. So make sure your essays are top notch.
ESCP MiM Long Essays (500 characters)
1) Describe your proudest accomplishments.
2)Describe a situation where you faced failure, what lessons did you learn from it?
3) How does your application benefit the 5 member schools?
4) Did you take part in any extra-curricular activity these past years? ( hobby, non-profit, sport etc..)
ESCP MiM Short Essays (200 characters)
1) Please comment on an international experience that has influenced you in particular and explain why?
2) Please comment on your most significant work experience.
3) Please comment on the positions of responsibility you have held at school, in clubs and/or societies (Outline hobbies, general interests, and other activities)