ESADE Business School
[session]
DEGREE
MSc in International Management
ESADE MiM Overview
ESADE brings together diverse students with different goals in its portfolio of MSc Programmes in Management. This program will develop the skill set and knowledge that future recruiters are looking for. One gets real, hands-on professional experience. They believe in teamwork and supportive growth. Guided by experts, one will draw a map of goals and discover what you need to get there.

Placements
94%

Non-Spanish students
91%
| | | |
| --- | --- | --- |
| | Financial Times'18 | 8 |
| | QS World Rankings '18 | 3 |
| | The Economist'17 | 10 |
Program and Curriculum
The learning experience will take place in a challenging international environment, and will help you to explore more about your field also, learning the art of leadership and discovering ways to deliver inclusive and appropriate solutions to management challenges. ESADE has divided their programme in a wide range and will help you to know more about your surroundings and proogram.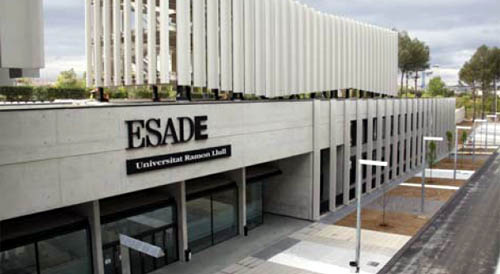 A Mix of Core Courses and Electives are offered
• Business Policy
• Introduction to Finance
• Introduction to Marketing
• IT for Managers
• Managing People
• Operations and Logistics
A Mix of Core Courses and Electives are offered
Here are some examples of the same
• Business and Environment
• Corporate Strategy
• Data Analytics
• Data Minding
• Dealing with IPR
• Design & Marketing
• Digital Entrepreneurship & Business Models
• Disruptive Manage
As an ESADE student one can attend numerous events with recruiters from various business sectors that the school organizes each year.
Examples of these events are –
Recruitment Fairs
Career Workshops and Skill session
Case Competitions
Various events are organized every year in ESADE which enable various stakeholders – including charities, for-profit and non-profit businesses, social entrepreneurs, public administrators, and academic researchers – to discuss current issues regarding social innovation, corporate social responsibility, social entrepreneurship, and the non-profit sector.
Few examples of such are –
Annual Conference on social innovation
Annual Conference on current taxation
Impact Management
ESADE is home to a variety of clubs, some of them are
The Entrepreneurship Club
MBA Family Business Club
Political and Public Affair Club
Cultural Association Club
Marketing Club
Technology and Media Club
The project is a highlight of the MSc programme. It challenges you to apply what you've learned in class to a real organizational situation. The project exposes you to the complexities of real-life business. It broadens your understanding and empowers you to develop new team-building, analytical-thinking, and project management skills.
Few projects done are –
Small NGO Project – Tourism Project
Social Business Projects
Multinational Projects
Employment
With 94% of placement every year, ESADE is really fattening up the market and providing Average Salary of €51,838 is a good opportunity for students to opt for ESADE as their B-School for MSC.

Top 3 Sectors
Consulting
Technology
Industry and Manufacturing
| | |
| --- | --- |
| Consulting Service | 41% |
| Technology | 22% |
| Industry & Manufacturing | 14% |
| Financial Services | 13% |
| General Services | 6% |
| Communications Services | 3% |
| Government & Non Profit | 1% |
Companies recruiting from ESADE MiM
Consulting Sector
Bain and Company
McKinsey
Accenture
Ernst&Young
Finance
Deutsche Bank
Credit Suisse
Bank of America
Barclays
Industry& Manufacture
L'ORÉAL
Pepsico
Mango
Unilever
Want to be a part of the 2019 success stories?
Want to know your chances at ESADE?
ESADE has more than 56,000 alumni who are also a fundamental part of our international network. The ESADE Alumni Association is extending the network by developing 32 chapters around the globe.
94% of students were employed within 3 months of graduation.
Some Famous Alumni
Albert Rivera (Member of Congress at Deputies)
Jordi Hereu (Politician, member of PSC)
Sandro Rosell (Former President of FC Barcelona)
Masters in International Management Class Profile

Class Size

Average Age

Nationalities

Female
Useful Information
ESADE is one of the world's leading business school, it is a global education institution known for its quality education and world class management.The Masters in International Management is ESADE's prolific management programme which allow students to earn business careers from best professionals.
Eligibility
Bachelor's Degree. Preferably Bachelor's degree in Business Administration or Business-related programmes accepted for the MSc in Global Strategic Management.
Proficiency in English (certification).
GMAT or GRE
No previous work experience or knowledge of Spanish is required.
TOEFL: 100+
IELTS: 7.0+
PTE Academic: 68+
Masters of International Business Deadlines
| Round | Deadline |
| --- | --- |
| 1st Round | 2 Oct 2018 |
| 2nd Round | 27 Nov 2018 |
| 3rd Round | 15 Jan 2019 |
| 4th Round | 12 Feb 2019 |
| 5th Round | 5 Mar 2019 |
| 6th Round | 9 Apr 2019 |
| 7th Round | 21 May 2019 |
| 8th Round* | 4 Jun 2019 |
Next Deadline Approaching in
Check out what our Past ESADE clients say about our Services
Application Documents
Online application form
GMAT/GRE Score
Official Academic Certificates
Language Accreditation
Letters
Photos (submitted in the online application form)
Passport (submitted in the online application form)
Application fee
Application Essays
Are you applying to other Schools? Please provide detail of Schools and Programmes. This information is for our own records; it will not affect the Admissions Committee's decision.
Did you learn about this programme through an Alumnus recommendation? If so please provide us with the name and graduation year.
Personal essays (each question is limited to 2000 characters including spaces, 30 lines approximately)
1. What makes you YOU?
Today there is a growing need for outstanding business leaders who excel in their field and adapt quickly to the changing needs of the market.
Companies look to us for future leaders – people whose expertise and entrepreneurial abilities are flexible and suit a variety of leadership roles. Your drive and motivation and the individual qualities that you bring to the table are your best selling points and are what will enrich your team members most.
The following questions are designed to help them get a further, more complete picture of who you are and the impact that you will have both here at ESADE and on society after completing your MSc Program in Management.
Please respond openly, explaining what makes you the person that you are and who you will become.
Complete ONE of the following questions to share with the admissions team your global mindset and skills and competencies you consider crucial to master in order to succeed in a diverse environment (personal, academic and professional career). 
1. Which country/culture do you consider the most different from your own? Why? If you would be sent there, how would you adapt? How would you help somebody from that country to adapt to your own?
2. Are there any attributes and competencies you consider crucial to succeed when dealing with diversity in the corporate world? Are those different to the ones you would use in your personal life?
3. Share with us the most amazing experience you have had far away from your comfort zone? And the most shocking one? And the worse?
ESADE MiM Short Questions
1. Why do you think ESADE's MSc Programs in Management are a good fit for you?
2. Describe your mid-term and long-term visions for your post-MSc Program in Management career path. What is it about ESADE you think will help you reach your goals?
3. Please, provide any additional information that you would like to bring to the attention of the Admissions Committee. This may include gaps in employment, your undergraduate record, plans to retake the GMAT or any other relevant information. (max 3 000 characters)