DEGREE
Master of Science in Management in Entrepreneurial Leadership
CAMPUS
Wellesley ,Massachusetts,USA
BABSON COLLEGE MSEL REVIEW
The Master of Science in Management in Entrepreneurial Leadership (MSEL) is a comprehensive, nine-month program that provides students with the required practical knowledge and academic rigour to succeed in workplace with an emphasis on social, economic, and environmental responsibility and sustainability.
The program consists of two semesters in which students will not only study academically rich courses such as marketing, economics, operations,management and finance, but also participate in leadership activities and hands-on learning projects.

Exchange partners
20+

International Students
86%


Female
40%

U.S. Diversity
33%
| | | |
| --- | --- | --- |
| | Financial Times | – |
| | The Economist | 23 |
| | QS World Rankings | 101 |
Program and Curriculum
The MSEL Programme has been developed to provide students with comprehensive knowledge of business and practical exposure with experiential learning projects and leadership activities. Students from all academic backgrounds are encouraged to apply to this specialised programme. Through the Leading Entrepreneurial Action Project (LEAP), students are given an opportunity to think out of the box and define,design and develop a business business or solve a business problem. This course is also focussed on supporting the careers of students by providing skill building sessions,seminars and unique global exposure.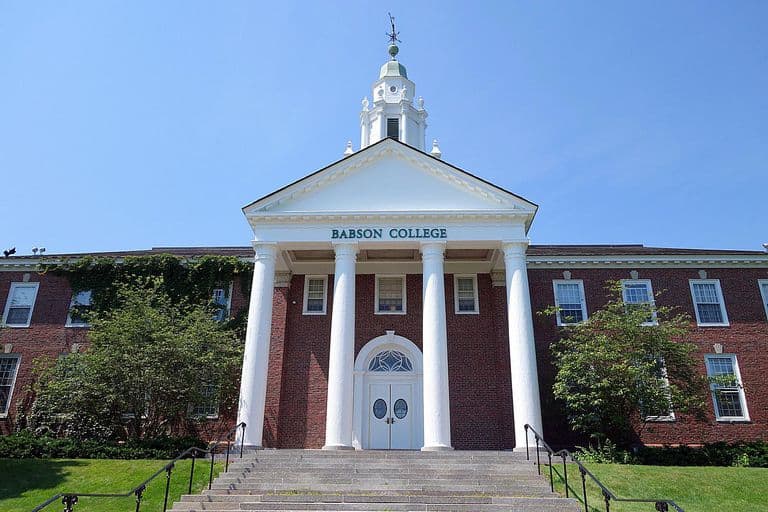 LEAP-Design, Entrepreneurship, and Organizational Behaviour (4.5 credits):  Designing, defining and solving a real time business problem
Creating you- Building your Professional Life (1.5 credits):  Comprised of skill-building sessions, seminars with Babson's centers and institutes, and opportunities for reflection, this aspect of the program will provide support in career development.
Operations Management
Managerial Accounting (Resource Planning)
Marketing Management
Quantitative Methods (Data Exploration)
Entrepreneurial Economics
Information Technology
Finance for Entrepreneurs
Strategy
Law
The Strategic Analysis Consulting project provides an opportunity to students to solve a real-time business problem faced by a local company in the Boston area. A strategic solution is presented to the company to address the business problem, evaluate strategies and provide the students with hands-on business experience.
The course provides an exciting opportunity to students to discover international business environment and develop their world views as the entrepreneurial leaders. Travel for 8-12 days to locations such as Chile,China and Tanzania provides students an exceptional international business exposure.
"It is wise to keep in mind that neither success nor failure is ever final."
– Roger Babson
With more than 100 student clubs and organizations on campus, Babson fosters a campus environment that empowers in you a desire to co-create experiences in partnership with others.Students are encouraged to start new clubs and organizations that fill an unmet need. The process for starting a new organization is not difficult. We intentionally keep red tape to a minimum so that students can pursue their ambitions with administrative support, not interference.
Many of the events and activities that take place on campus are initiated and designed by students providing an immediate opportunity to apply and practice entrepreneurial leadership. This is another way in which Babson empowers students to create their own path.
Employment
The MSEL Course prepares students to achieve their professional goals through its academic curriculum particularly Creating You :Building your professional life. Top MSEL Employers Deloitte Consulting, Fisher Investments, Innogeek Group, Monsanto Growth Ventures,Oracle Corporation, The New England Team, Tradecraft

Sectors that Babson MSEL Graduates are working on:
Consulting
Finance
Technology
Want to know your chances at Babson?
 BABSON Alumni Info
With a responsive network of more than 38,000 alumni, the MSEL program proudly presents an employment rate of more than 81% with three months of graduation and 95% within 6 months of graduation.
Some of the enterprising young alumni of Babson's MSEL program include-  Iyan Adeendren Ayyan Kodiswaran, CEO of Capital Circle, Shriyans Bhandari CEO Greensole, Katrina Fludd Senior diversity and inclusion specialist Princeton University, Alfred Schofield Co-founder Vitalfit nutrition and so on.
Some Famous Alumni
1. Arthur Blank, Co-founder of Home Depot.
2. Alberrto Perlman, Co-founder of Zumba Fitness.
3. Ruthie Davis, President of luxury shoe brand Ruthie Davis.
Masters of Science in Management:Class Profile

Class Size

AVG.GMAT

 Average Work Exp

International Students

Female

Avg GPA
Useful Information
Babson College is a top-notch business and entrepreneurship institute in the USA. It's Masters of Science in Management in Entrepreneurial Leadership (MSEL) Program is ranked #1 by Financial Times. Also, it is renowned for its highly-acclaimed curriculum that uses the Entrepreneurial Thought & Action (ET&A) methodology to teach students with a pro-bono approach in classrooms.
Eligibility
Recent graduate
An individual having less than one year of full-time corporate work experience
Graduate in any discipline
AACSB International,
NECHE, EQUIS
 Masters of Science in Management in Entrepreneurial Leadership Deadlines
 Rounds                     Deadline Dates
   Round                     Rolling Admissions
Next Deadline Approaching in
Application Documents
Online Application
Essay
Letter(s) of recommendation— 1 letter of professional recommendation and 1 letter of academic recommendation
Résumé
Transcripts from all institutions, undergraduate and graduate
GMAT or GRE score reports (The GMAT or GRE may be waived for applicants who have earned a bachelor's degree or graduate degree from an accredited institution with a GPA of 3.0 or better and meet one or more of the following criteria:

Have achieved a grade of B or better in two or more quantitative undergraduate and/or graduate courses
Have submitted a valid SAT or ACT score
Have acquired demonstrable analytical skills through professional certification with a quantitative focus – CFA/CPA/Six Sigma, etc. )
Video interview

TOEFL, IELTS, or PTE score reports for international applicants
$100 application fee

Optional items:

Candidates may include an optional essay to provide additional pertinent information to the admissions committee.
Essay Question
For new applicants in all full-time and working professionals programs, an essay is required. Applicants may choose from one of two prompts listed below and respond in 500 words or less.
Essay Option A
Babson College educates entrepreneurial leaders who create great economic and social value everywhere. Using Babson's mission, describe your short-term and long-term goals and how your goal(s) align with this mission. We encourage you to highlight your strengths, any recent accomplishments, or future ambitions.
Essay Option B
Babson educates entrepreneurs of all kinds. Some students will seek to start businesses, others will seek to grow an established business with innovative approaches and solutions. What kind of entrepreneur will you be? How do you intend to leverage Babson's resources to support your ambitions?